Shirsha Marie
Trustee, Business Manager, Retreat Leader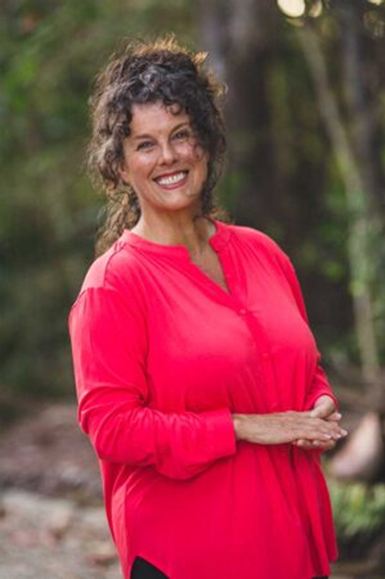 About Shirsha
Shirsha is a Somatic Psychotherapist with 35 years of teaching experience in Tai Chi, Qigong and internal martial arts. With comprehensive knowledge of the body-mind system and warm-hearted expertise, she makes Qigong accessible and enjoyable for everybody.
"My passions in life have been painting, Tai Chi, Qigong and martial arts, along with many years of body-based psychotherapy and meditation. In 1986 I founded my heath and martial arts school, Heart Mind Centre in downtown Byron Bay and there I enjoyed teaching a great many dedicated students.
From the early 90's I lived across the road from Sangsurya and watched as Tony and Mona built their meditation sanctuary. I marvelled at their dedication to providing such a haven, not for commercial benefit but for the evolution of the heart, mind and spirit.
In 2005 Tony and Mona invited me to live at Sangsurya. After Mona passed away, I became a close friend and meditation companion to Tony until his death in 2017. Before Tony died he asked me to be the manager and caretaker of Sangsurya along with my beloved partner Sagaro. We do this with great love and a good dose of tenacity, carefully protecting and maintaining this beautiful health and meditation sanctuary in support of our inner work community."
Qigong
Qigong is a self-healing system based on traditional Eastern health and meditation practices. Its softly flowing moves and deep breathing methods cultivate vital life energy to nourish the organs, build internal strength, boost immunity, regulate the nervous system and promote inner peace and wisdom.
Shirsha 's Retreats
Sangsurya Signature Retreat
06/01/2021 - 11/01/2021
Sangsurya Retreat Centre
Sangsurya Signature Retreat
26/03/2021 - 31/03/2021
Sangsurya Retreat Centre
Sangsurya Signature Retreat
19/11/2021 - 24/11/2021
Sangsurya Retreat Centre
Sangsurya Signature Retreat
23/07/2021 - 28/07/2021
Sangsurya Retreat Centre
Sangsurya Signature Retreat
04/01/2022 - 09/01/2022
Sangsurya Retreat Centre
Insight Meditation & Qigong
01/10/2021 - 07/10/2021
Sangsurya Retreat Centre