The Organisation
Sangsurya Retreat Centre
Discretionary Trust
Sangsurya has consistently lived up to its name, "a place where the sun reaches everybody" by hosting high-quality meditation and healing retreats throughout these many years. It has thrived to become a very popular retreat venue, expanding in size and capacity to retain a solid base of meditation, health and personal development teachers. Tony and Mona's vision has been realised, with much gratitude from all who have benefitted from being in retreat here.
Before he passed, Tony stated in his Will that he would like a Discretionary Trust to be established to continue to operate Sangsurya as a health and meditation retreat centre for many years to come. The Sangsurya Trust was established on 24thApril 2019, with a selected Board of Trustees as per Tony's wishes.
Tony ensured that Sangsurya would be managed by like-minded people who would sustain the facility with similar intentions and interests as Mona and he had envisioned. He asked Steve Sagaro and Shirsha Marie to be the caretakers and managers of Sangsurya, going forward. They do so with great love and dedication to protecting, maintaining and providing this beautiful health and meditation sanctuary for our national and global personal development community.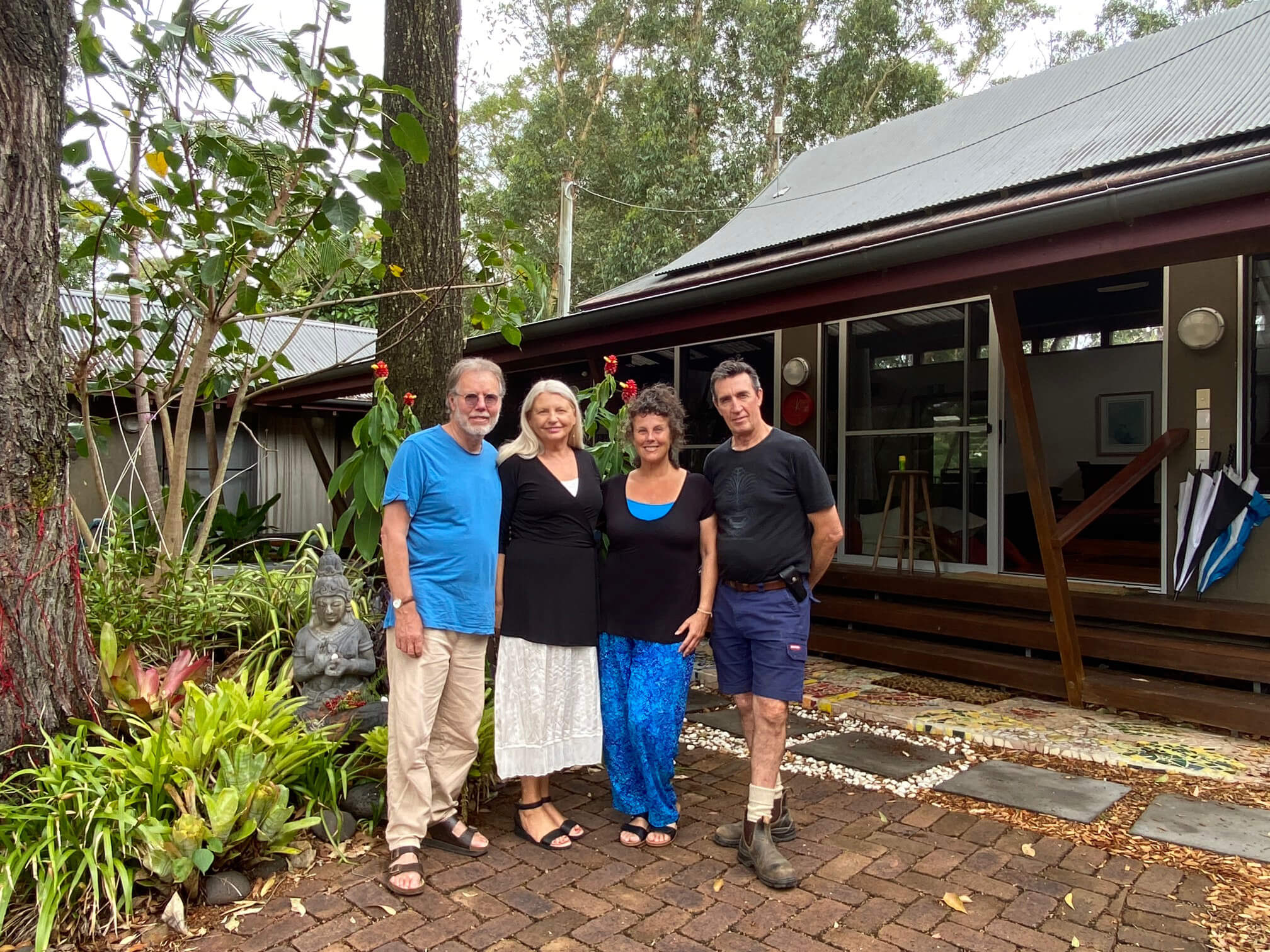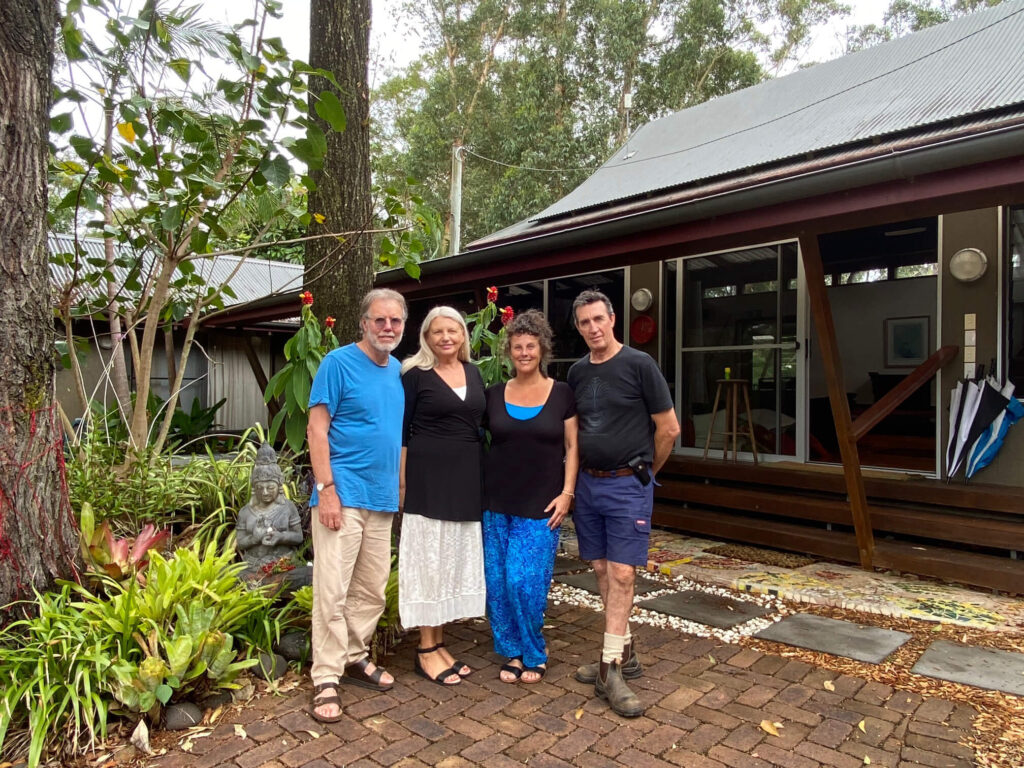 Trustees
"My passions in life have been painting, Tai Chi, Qigong and martial arts, along with many years of body-based psychotherapy and meditation. In 1986 I founded my heath and martial arts school, Heart Mind Centre in downtown Byron Bay and there I enjoyed teaching a great many dedicated students.

From the early 90's I lived across the road from Sangsurya and watched as Tony and Mona built their meditation sanctuary. I marvelled at their dedication to providing such a haven, not for commercial benefit but for the evolution of the heart, mind and spirit.

In 2005 Tony and Mona invited me to live at Sangsurya. After Mona passed away, I became a close friend and meditation companion to Tony until his death in 2017. Before Tony died he asked me to be the manager and caretaker of Sangsurya along with my beloved partner Sagaro. We do this with great love and a good dose of tenacity, carefully protecting and maintaining this beautiful health and meditation sanctuary in support of our inner work community."

Shirsha Marie
"I arrived in Byron at the end of '85 and woke up in a room at Watego's the next morning. Took in the view and never went back to Sydney. There was lots of accommodation, few jobs but I managed to live in Watego's for $75 per week, for two people. Worked at the Arts Factory, drove a cab for $5 per hour and surfed and swam every day.

I attempted to learn about Mac and Apple when Shares were $13 each. Started up Lightforce Computers with some friends and introduced Byron businesses to the Internet. Told them they would be drinking coffee and doing emails in a few years. They laughed. We sold heaps of Macs. We also put Woodford on the web first time. A bit clunky. Low res digital camera, slow modems, Netscape. I learnt to fix things including the Mac products and became the first Apple Technician east of Lismore. I learnt a lot from all those jobs and that's what I put into my day when I'm working on the gardens, composting vegetable scraps, taking care of recycling and fixing daily problems. Sangsurya thrives on care – that's what we do."

Steve Sagaro

"After studying film making, drama and the arts I travelled extensively in Asia enjoying the diversity of culture. My travels took me to India with the intention of exploring and inquiring into the nature of existence through meditation practice. This has been a life-long love.

Other loves include my three sons and a daughter, seven grandchildren and a vibrant extended family.

I have also been a registered Psychologist specialising in treatment for anxiety, trauma and addiction. In my professional career I have worked at The Buttery, a treatment centre for chemical dependence, and have been the Clinical Director of The Sanctuary and the Bay Retreats. Prior to retirement, I worked in my Private Psychology Practice in Bangalow.

I teach Insight Meditation internationally with regular retreats in India, Germany and Israel as well as in Australia. I have been a guest teacher in the USA, UK, France, Palestine, Thailand and New Zealand.

After teaching meditation at Sangsurya for many years I accepted Tony's request to be a trustee, never imagining that it would be so soon."

Radha Nicholson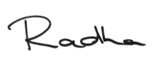 " There are many loves in my life: family, music, the environment and deepening my understanding on how to live a free and liberated life.

Initially I enjoyed playing in bands and sharing music with friends and then for many years was a director of the Global Carnival, a world music festival. Throughout this time I attended many retreats in different traditions and in 2005 was invited to teach Insight Meditation and the Dharma teachings of the Buddha. Since then I've continued to teach regularly in Australia and overseas.

In 2001 I met Tony and Mona and a strong friendship and love deepened over the years as well as a deep love for Sangsurya. I recognised that Sangsurya provided a unique environment for people to explore and deepen their understanding of themselves and their relationship to each other and the environment.

This precious and unique place, a truly sacred place needs to continue to provide the opportunity for people to ease their suffering, especially in these challenging times."

Will James